Flood relief work on St Asaph's Roe Parc complete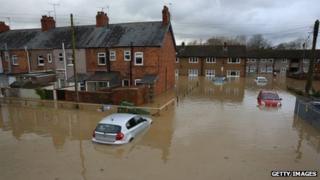 An "important milestone" has been reached with the completion of work to protect an estate after floods claimed a life and affected 500 properties in a Denbighshire city last year.
Workers have raised an embankment over 162 metres (531ft) long to protect homes on St Asaph's Roe Parc estate.
Natural Resources Wales said more work is still needed around the tiny city.
Work to clear potential blockages from a four mile (6.4km) section of the river Elwy is also under way.
Tim Jones from Natural Resources Wales said: "While we can't prevent all flooding, there is a lot we can do to reduce the risk.
"The people of St Asaph know all too well the devastating impact that flooding can have and this is an important milestone in the journey to reduce flood risk for low-lying parts of the city."
In July, a report into the flooding said about £5m is needed to improve flood defences in the area.
About 500 homes were hit by floods and one person died when the Elwy river burst its banks last November.
And a further 120 new build homes were affected by the floodwater at neighbouring Ruthin.