Glynis Solmaz death: Burglar 'did not see victim's blood', trial hears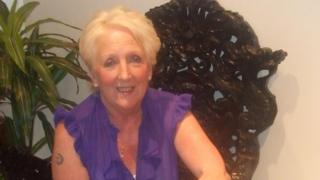 A man who admits burgling the home of a pensioner has told Mold Crown Court he did not know she was dying when he left her house.
Christopher Curran, of Wrexham, said he did not see any injuries or blood on Glynis Solmaz, 65, of Caia Park.
Mr Curran, 34, and Alexandros Wetherill, 24, of Wrexham, deny murder but Mr Wetherill admits manslaughter.
Both admit conspiracy to burgle with Mrs Solmaz' former-son-in-law, Christopher Natt, and David Lovell.
Giving evidence on Wednesday, Mr Curran admitted he had been the chief planner of the burglary in February after being told by Mr Natt that Mrs Solmaz had £40,000 in a bedroom safe.
But, he told the jury, his role was only to be a look-out and he was not prepared for receiving a text from Mr Wetherill saying he had "a woman here who was knocked out".
He admitted he went to the house but denied prosecution claims it was for much more than two minutes, or that he knew Mrs Solmaz was fatally injured when he left.
'Pressure'
"I did not know she was dying. It was only meant to be a burglary, not what happened to her," he said.
Mr Curran told Nigel Powers QC, defending, that he he did not see Mrs Solmaz when he first went upstairs, but did see her when he returned from the kitchen with keys he and Mr Wetherill tried in the safe.
Mr Wetherill had his foot on the back of the pensioner's head, he told the jury.
He said: "I don't know if there was any pressure being used at all. He was not pushing down or anything."
After leaving the house, at Mr Wetherill's request to find tools, he had made up his mind not to return, he told the jury.
"To be honest with you I was not happy about it," he said.
Mr Curran agreed with Mr Powers that he had not tried to help Mrs Solmaz and had carried on with the burglary with her lying on the floor.
Several legacies
He said he believed she may have been pretending to be unconscious.
The prosecution claims the burglary was the idea of Mr Natt, of Ponciau, Wrexham, who had previously lived in the house and installed the safe.
The court heard Mrs Solmaz had inherited between £30,000 and £50,000 from several legacies which would have led to her being considered wealthy locally.
The prosecution alleges that Mr Wetherill, a bricklayer, went beyond the plan merely to steal and Mr Curran did nothing to stop him.
Mr Curran told the jury that he learnt from Mr Natt that the pensioner's house was not alarmed, the bathroom window was always open, and her two Rottweiler dogs were "soft and harmless".
Jewellery
The court heard Mr Curran was staying with Mr Lovell in Brymbo, Wrexham, and had told him of the burglary plan. The pair then checked out Mrs Solmaz's house the week before the burglary.
The court heard that once Mr Wetherill had extracted the safe, Mr Curran told him to contact Mr Lovell for a lift back to Brymbo.
The safe was opened on waste ground by Mr Curran. The contents, £10,000 in cash, was shared out at Mr Lovell's home, the jury was told.
Mr Curran said he disposed of Mrs Solmaz's jewellery and his phone two days later after discovering she had died.
The trial continues on Monday.