Glynis Solmaz death: Burglar Alexandros Wetherill 'devastated'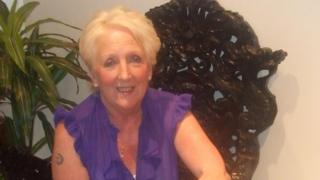 A burglar was "devastated" after causing injuries to a householder that led to her death but he did not intend to kill her, a murder trial has heard.
Glynis Solmaz, 65, was killed in the bedroom of her Wrexham home in February, Mold Crown Court was told.
Alexandros Wetherill, 24, from Wrexham denies murder but admits manslaughter.
Christopher Curran, 34, from Wrexham, denies murder. Both admit conspiracy to burgle with Mrs Solmaz' ex-son-in-law, Christopher Natt, and David Lovell.
The prosecution claim Natt, of Ponciau, Wrexham, had previously lived in the same house as Mrs Solmaz and had installed a safe in her bedroom wall.
It was his idea to rob her as he believed she was wealthy with cash, jewels and possessions.
The court heard Mrs Solmaz had inherited between £30,000 and £50,000 from several legacies, which on the town's Caia Park estate where she lived, would have led to her being considered wealthy.
The prosecution alleges that Mr Wetherill, a bricklayer, went beyond the plan merely to steal from Mrs Solmaz and Mr Curran did nothing to stop him.
Giving evidence on Tuesday, Mr Wetherill told the court he could not keep his head above water and was in debt.
He said the boiler had gone at his home and his partner and newly born baby daughter had moved to her parents home, and he wanted them back as a family.
He had been told there was a lot of money in the house, he thought it would be a quick burglary and he told the jury that he had been to the house on earlier occasions to check if a bathroom window was open.
'Caught me red handed'
Mrs Solmaz was not supposed to be at home and he had been told that if her Corsa car was not there then should not be at home.
He told jurors that he knocked the door a couple of times, went in when there was no answer, but that she then appeared from somewhere and "caught me red handed".
He said that he grabbed her and held her away from him so that she would not see him and then claimed she took him upstairs as he still held her.
She mentioned keys to the safe, they returned downstairs but she could not find them, and they returned upstairs and he held her with one arm while he tried to open the safe with a screwdriver with the other.
But as he released his grip she grabbed a light shade and started to hit him with it and kicked back at him, he said.
He said he panicked and tried to calm her down, and tightened his grip - and it was then he said she went limp and started to snore.
In evidence, he said believed that she had fainted or was temporarily unconscious, he had not seen any injuries or any blood, and he lowered her on to the floor.
'Matter of minutes'
Mr Wetherill said that the injuries from which she later died had occurred before Mr Curran came into the room and that Mr Curran had not physically touched her.
When Mr Curran did enter the bedroom Mr Wetherill said that he had his foot on Mrs Solmaz's head so that if she woke up she could not turn and see him.
Mr Curran had been in the room a matter of minutes, left to get tools, but Mr Wetherill said that he got the safe out of the wall.
They later shared out the money, and he left his track suit bottoms and hooded top and hat at a house in Brymbo where Mr Curran was then staying.
A couple of days later, on the Wednesday, Mr Curran rang him to say she had died.
Mr Wetherill said that simultaneously he heard it on the radio news and he said that he turned white, broke down, felt sick and was shaking.
He decided to give himself up which he did on the Friday.
Asked how he felt about what he had done, he said: "Absolutely ashamed. I am devastated. I still cannot believe the reality of what actually happened."
The hearing continues.