Bodelwyddan homes plan a 'done deal' says councillor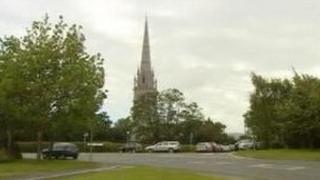 A consultation on plans for 1,700 new homes in a Denbighshire community has started.
Residents in Bodelwyddan opposed Denbighshire council's proposals to earmark land for a major redevelopment including a school, community facilities and a site for businesses.
But the local development plan was ratified in June with some now saying they felt it was already a "done deal".
The council said the community's views would be taken into account.
Town councillor Derek Barker said while the county council needed to find sites for new homes for the future, he did not think building so many in one community was a viable solution.
He raised concerns about the need for new infrastructure and whether there was enough work in the area to sustain people on the site, which could occupy 26 hectares (64 acres).
"We have lived under this cloud for years," he said.
"It is a done deal. All their eggs are in the one basket," he added, referring to the council's plans.
"Is there a market for 1,700 houses in Bodelwyddan? There are no jobs here."
Planning for Real, a not-for-profit organisation, is holding drop-in sessions at Bodelwyddan Community Centre on Monday until 20:00 BST and on Saturday from 11:00-16:00 BST.
A council spokesperson said: "The results of the sessions will be fed into a development brief for the new site which will be consulted upon in the New Year.
"The development brief will set out what the council and the community require from the new development and will be used when assessing any future planning applications on the site."
Company Barwood Land and Estate has some plans for Bodelwyddan but nothing has been formally submitted to the county council.