Temporary deputy north Wales police and crime commissioner appointed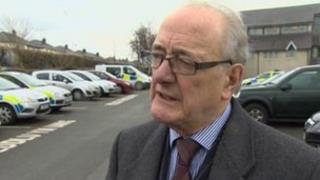 The north Wales police and crime panel has agreed to appoint a former senior police officer as a temporary deputy commissioner.
Julian Sandham will work as deputy to the elected police and crime commissioner, Winston Roddick.
The decision was taken to appoint the former chief superintendent in the acting role after earlier attempts to recruit a suitable candidate failed.
The full-time post was re-advertised last week.
"The panel have previously agreed that there is an urgent need for a deputy to fulfil my statutory duties, such as commissioning and preparing for the review of the police and crime plan," said the commissioner, Mr Roddick.
"I am delighted that Mr Sandham will be assisting me in my role until the recruitment process to appoint a permanent deputy commissioner has been completed.
Unanimous decision
"I am very fortunate to have secured the service of such an experienced and professional person of high intellectual and practical ability."
Mr Sandham, who lives in Penrhyn Bay near Llandudno, was in charge of North Wales Police's corporate services before retiring.
His appointment to the temporary role was a unanimous decision of the police and crime panel.
"I am looking forward enormously to working with the commissioner and his team," said Mr Sandham after the announcement.
"I have a strong understanding of the role and I will bring considerable experience of policing which will now be used as part of an independent function."