Glynis Solmaz death: Burglar told police he choked victim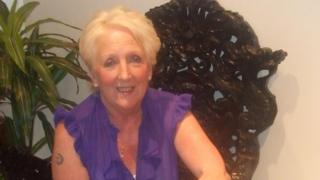 A murder trial jury has heard how a burglar told police he grabbed a 65-year-old Wrexham woman "until she became limp".
The body of Glynis Solmaz was found at her Caia Park home in February.
At the Mold Crown Court trial, Alexandros Wetherill, 24, of Wrexham, and Christopher Curran, 34, of Brymbo, Wrexham deny murdering the pensioner.
They and two men have pleaded guilty to conspiring to burgle the property at Bryn Hafod.
During proceedings on Friday, the court heard details of statements made to police by Wetherill, who has admitted the manslaughter of Mrs Solmaz.
'Tightened grip'
He told officers: "When I grabbed hold of her she sort of screamed and I said for her to calm down and don't struggle.
"She grabbed a lamp from a small cabinet and swung it back at me.
"At the same time she pushed backwards and I put my head down to avoid being hit and we ended up on the bed with her on top of me.
"I tightened my grip and she went limp and I lowered her off the bed onto the floor. I thought I'd choked her but I didn't do it deliberately."
Neck injuries
It is alleged that Wetherill restrained his victim during the burglary after failing to remove a safe from a wall in the spare bedroom.
The prosecution say that Curran was there to remove the safe. He is charged with murder on a joint enterprise basis, that he did nothing to help Mrs Solmaz, or alert the authorities, after it is claimed he saw her being restrained on the floor.
In evidence from Home Office pathologist, Dr Jonathan Medcalf, the cause of death was given as "mechanical asphyxiation".
The jury was told that Mrs Solmaz had suffered "forceful neck compression", with fractures to parts of the neck structures.
Mrs Solmaz' former son-in-law Christopher Natt, 52, of Ponciau, and 29-year-old David Lovell of Brymbo, have pleaded guilty alongside the other two defendants to conspiring to burgle.
The defence case is expected to begin next week and the trial continues.