Mold Cemetery extension ceremony led by Bishop of St Asaph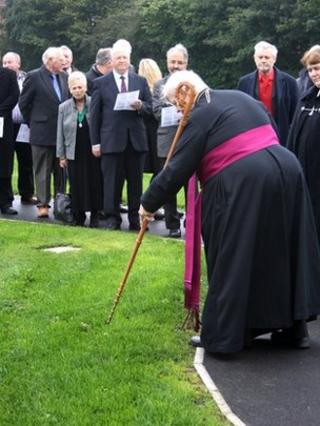 The Bishop of St Asaph led a ceremony to mark the opening of an extension at a Flintshire town cemetery that was years in the planning.
With just six plots remaining, work began in May to level land on a sloping section adjoining Mold Cemetery.
The town council had spent years trying to find an alternative site for a new cemetery before deciding to extend the site off Alexandra Road.
The space is expected to add an extra 15 years to the life of the cemetery.
It will be able to accommodate 360 new burial plots.
Bishop of St Asaph the Right Reverend Gregory Cameron consecrated the site at a special ceremony on Thursday.
He said: "When you think about consecrating a bit of land, it seems like a very straightforward, ordinary thing to do.
"But when you think of all the people that go to be buried there, of all the love and life and experience as well as those who remember and mourn, it actually becomes a very significant thing to be doing."
A report by consultants said it was one of the few places left in the area for burials, with churchyards mostly full.
The cemetery, which opened in 1877, has more than 4,000 plots which house two or even three burials. There are also more than 200 sites for cremated remains.
A cemetery costing almost £1m opened in neighbouring Connah's Quay in 2010 to address an "urgent need" for local burial space.
Woodland burials promising a "return to nature" have just been approved to take place at the cemetery on Kelsterton Lane.