Wrexham super-prison plans submitted to council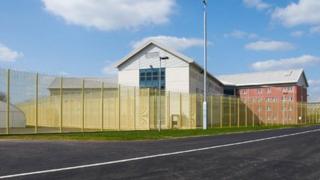 Plans for a £250m super prison have been put forward by the Ministry of Justice (MoJ) to Wrexham Council.
The proposals include three four-storey house blocks, up to 18m (59ft) in height, for the former Firestone factory site at Wrexham Industrial Estate.
The compound would be surrounded by a fence and could be 100m (328ft) from the nearest homes at Pentre Maelor.
The 2,000-inmate jail would open in four years' time if backed.
The plans are available to view on Wrexham council's website.
It is estimated that more than 760 people will work at the jail which could generate £23m a year to the local economy, officials have said previously.
'Sensitive'
The plans for outline planning permission have yet to be formally considered by Wrexham council.
They show that the complex could include three house blocks for inmates with each block comprising a central hub with four wings.
Elsewhere in the compound there are plans for workshop buildings, kitchens, a sports centre and a "control and support unit".
The MoJ says the prison will be built to Category B standards but will house predominantly Category C prisoners "who cannot be trusted in open conditions but who do not have the resource and will to make a determined escape attempt".
The planning information said: "Typically, occupants of residential properties are more sensitive than the occupants of commercial properties."
People living near the proposed site have already started a campaign to try to stop the development.
A formal consultation process will held before Wrexham councillors meet to determine the application.