Flood warden service extended across north Wales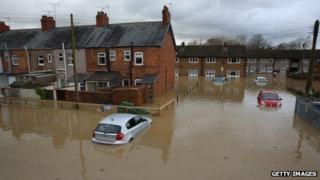 A network of volunteer flood wardens is being extended after last winter's heavy rain caused further incidents.
The scheme started in Wrexham in 2000 after the village of Rossett was hit hard and now the service has more than 190 volunteers across north Wales.
Natural Resources Wales (NRW), which looks after the environment, has recruited extra people following serious flooding in places such as St Asaph and Ruthin in Denbighshire.
It is helping with volunteer training.
St Asaph flood warden Bill Cowie said the role is about keeping people informed.
He says people do not necessarily hear public announcements about flood warnings so he has contact details of all 32 businesses in his immediate area so he can alert them.
"I can contact them immediately, 24/7 and given then a little bit of 'heads up' on what might be coming along," he said.
About 500 homes were hit by floods and one person died when the Elwy river burst its banks at St Asaph last November.
And a further 120 new build homes were affected by the floodwater at neighbouring Ruthin.
"Recent flood events have shown the real value of flood wardens in communities," said Eirian Redmayne from NRW.
"We still haven't covered all communities that are at risk.
"The thing is as well that it is a volunteering role and we have to have that community working with us in producing a community flood plan but not all communities want to do that."
NRW says people interested in volunteering to become a flood warden for their area should contact their local flood awareness officer on 01248 484029.