Craig Maddocks: Witness appeal in Wrexham pub death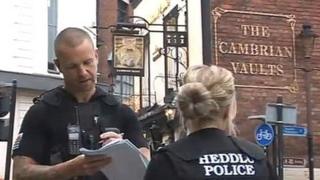 Police have appealed for a potential witness in a Wrexham murder investigation to come forward.
It follows the death of Craig Maddocks, 34, who died at the Cambrian Vaults in June.
Francisco John Prevete, 45, has been charged with murder and is expected to enter a plea at a court hearing next week.
North Wales Police say the man they are trying to trace was captured on CCTV footage inside the pub.
Investigators stress that the man is not a suspect, but could be an important witness.
"We are keen to trace this man who is not a suspect, but who may hold vital information," said Det Con Andy Crawford.
"I would urge the man himself to come forward or anyone with knowledge of his identity to contact North Wales Police ."
Police said the individual was the only person captured on camera that they have not yet spoken to in the investigation.
The appeal came as brief hearing was held at Mold Crown Court on Thursday in the absence of defendant, Mr Prevete, from Wrexham.
A new hearing in the case was set for 2 October, in which Mr Prevete is expected to be asked to enter a plea to the murder charge.
Henry Hills, defending, has previously told the court that the allegation was strenuously denied and that the charge would be vigorously defended.
Mr Prevete was remanded in custody in his absence.
North Wales Police said anyone with any information about the man on the CCTV footage can call 101 number or Crimestoppers on 0800 555 111.