ConvaTec expansion to create 67 jobs on Deeside Industrial Estate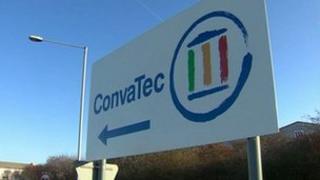 A medical products firm has announced a £3.7m investment at its Flintshire factory creating 67 jobs.
ConvaTec, which employs 600 people, makes wound dressings at its manufacturing centre on Deeside Industrial Estate.
The move, part-financed by the Welsh government, comes three years after the firm announced it was laying off 100 workers.
Economy Minister Edwina Hart welcomed the promises of new well-paid jobs.
ConvaTec has two sites on Deeside and a manufacturing plant at Rhymney in the south Wales valleys.
It says the investment will create 67 jobs and safeguard 16, by bringing a new line to its Aquacel Foam dressings.
A centre to provide accounting and finance support will also be created on Deeside.
Mrs Hart said the firm's two new ventures would "create a wide range of skilled, well-paid jobs".
She added: "The investment will strengthen ConvaTec's presence in Wales and provide a further boost for our expanding life science priority sector."