Support for Flintshire Council affordable homes plan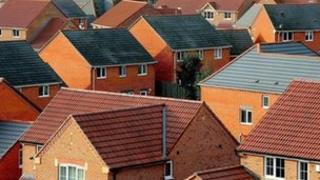 A new company to provide affordable housing in Flintshire could be set up by the local council.
A report said some local people were having trouble finding somewhere to live due to financial pressures.
A not-for-profit enterprise involving private landlords is being proposed, which could be managed by the council.
Councillors on Flintshire's housing, overview and scrutiny committee voted on Monday to support the idea, which will be developed and voted on later.
The report discussed at a meeting on Monday said some residents faced "increasing difficulty in accessing affordable housing due to economic pressures, welfare reform and the challenges experienced in accessing mortgage finance".
It also said "current statutory limitations which govern the council's ability to grant tenancy agreements are very restrictive".
A housing company is suggested as one solution, adding that the council is "working with a number of private landlords in Flintshire to explore options for leasing properties".
It adds: "There are a number of investors happy to invest in property but not keen to take on management responsibilities.
"The council is viewed as a trusted provider in this regard."
Helen Brown, Flintshire cabinet member for housing, said: "The council has made a commitment to our residents to ensure that affordable housing is a priority and the proposal of setting up a separate holding company is extremely exciting in the flexibility that it can offer, to help us to meet that need."
If the proposal for a holding company is supported, more work on the detail will be undertaken before the scheme is considered by the council's cabinet.
Committee members also voted to proceed with plans to regenerate Flint, which include proposals for new homes.
Councillors backed a recommendation to pursue compulsory purchase order (CPO) powers if needed, to allow the purchase of land required for the scheme.
A CPO could include the last remaining properties at blocks of maisonettes in the town. So far, 157 maisonettes are empty, but two home owners and one tenant have yet to resolve their cases.