Open meeting in Pentre Maelor over super prison site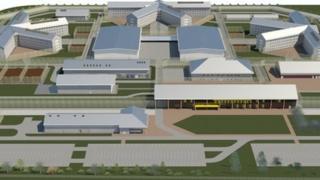 An open meeting to discuss plans for a £250m super prison in Wrexham is due to be held for people living next to the proposed site.
The UK government has chosen the former Firestone site on Wrexham Industrial Estate as its preferred site for a prison holding up to 2,000 inmates.
A Ministry of Justice representative will be present to hear views.
The meeting will take place at Pentre Maelor Community Centre between 19:00 BST and 21:00 BST on Thursday.
Local community councillor, Ray Squire claims there is some local opposition to the prison, which could be built by 2017.
He also claims the local community has not been consulted properly.