Redrow's 63% jump in pre-tax profits to £70m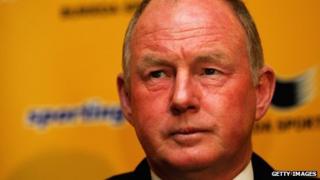 Wales' biggest house builder Redrow has reported a 63% jump in pre-tax profits to £70m.
The Flintshire-based company capitalised on a housing market fuelled by state stimulus schemes in the year to 30 June.
Redrow's results came as chairman Steve Morgan criticised Britain's planning system.
The Welsh government said it had a package of measures to help stimulate the house building industry in Wales
Redrow saw a 15% rise in completed sales to 2,827 and said private average selling prices rose 11% to £227,300 as it sold more large family homes.
It announced plans to reinstate shareholder dividend payments.
'Bureaucratic and time-consuming'
Redrow said the UK government's Help to Buy initiative made a "significant contribution" to forward sales, up 42% by value over the year, although it has only led to 3% of private completions so far since launching in April.
The group also welcomed the return of market confidence, with private reservations so far in the current financial year up 54% at 784.
Redrow is aiming for a "substantial" increase in building with 93 sites up to now in 2013 against 84 in 2012.
But Mr Morgan was cautious over the industry's ability to meet fast-increasing demand in the face of a "bureaucratic, costly and time-consuming" planning system.
He said the group had 16,600 plots locked in the planning system that could deliver around 120 new developments but said only a "minority" were expected to progress in the next year due to the complex approval process.
"Although we do expect to increase outlets in the current year, the pace of growth is much slower than we would like and the level of planning bureaucracy is an unnecessary barrier to increasing the supply of new homes," he said.
While most of Britain is benefiting from Help to Buy and the Funding for Lending scheme to increase the availability of credit, Redrow claimed Wales was continuing to suffer from a lack of government-backed initiatives.
It said south Wales was the only one of its nine regional businesses not experiencing notable growth, hampered also by an even more difficult planning environment.
Shares in Redrow rose 3% following the results and dividend cheer.
Mortgage help
A Welsh government spokesman said increasing the supply of homes across Wales was a "priority" for Carl Sargeant, the minister for housing and regeneration.
"In July, the minister announced a package of measures which will help stimulate the house building industry in Wales," he said.
"This includes the shared equity scheme, Help to Buy Cymru, which will be launched later this year to help buyers who are struggling to secure a mortgage or purchase an affordable family home.
"We recognise that the planning system is essential in enabling developing to come forward in the most appropriate way and in December, we will be publishing a draft planning bill and accompanying policy proposals for consultation.
"We note Redrow's improved results with interest. A representative from Redrow is included on the Welsh Government's Housing Supply Task Force which will report to the minister in December.
"Their recommendations, along with the findings of research into the barriers to the delivery of housing in Wales, will help us identify practical steps that can be taken to increase the supply of housing across Wales."