Gwersyllt Post Office to remain after community opposition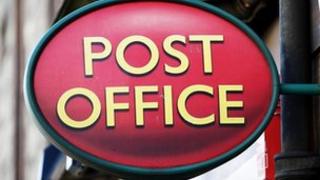 The Post Office has dropped plans to move a Wrexham branch, following local opposition.
More than 2,000 people signed a petition against proposals to move Gwersyllt's Post Office to a Spar and service station on Mold Road.
Following a consultation, the Post Office said the branch would stay put "for the time being".
Wrexham MP Ian Lucas, who opposed the move, said it was a "victory for the whole community".
The Post Office confirmed that "given the level of concern expressed by the community the proposed new operator has decided not to continue with their application".
It added: "Gwersyllt Post Office will continue to operate from Hope Street for the time being.
"The branch is currently run by a temporary agent and the Post Office will therefore continue to seek a permanent solution for the provision of Post Office services in Gwersyllt.
"Any new proposal to move the branch would be subject to a further six-week period of local public consultation."
Mr Lucas said: "The Post Office say the plans will continue for the time being and that if any new plans are put forward, they too will be subject to consultation.
"I hope that the village will give any new plans the same level of scrutiny that they applied to these proposals."