Choral piece marks Prince Charles's birthday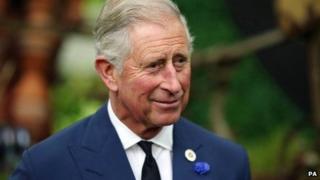 A poet and novelist from Wrexham has joined forces with a St Asaph-born composer for a choral work to celebrate the Prince of Wales' 65th birthday.
Ex-BBC journalist Dr Grahame Davies, who is assistant private secretary to the Prince and the Duchess of Cornwall, wrote the words while Prof Paul Mealor composed the music.
It will be showcased at the North Wales International Music Festival.
The event is held at St Asaph Cathedral from 20-28 September.
Prof Mealor said he had enjoyed working on the piece.
"Grahame has a wonderful feel for the rhythms of music so he was the obvious candidate for this particular job," he said.
The Prince's first official harpist, Catrin Finch, and the current royal harpist Hanna Stone, will both accompany the performance.
The festival's artistic director, Ann Atkinson, said: "The whole piece is intended to emphasise the principle of stewardship of the world and its human and natural resources."
As part of the festival, an opera about the biblical story of Noah's Ark will help raise money for victims of the flooding in St Asaph last November when the River Elwy overflowed.
The performance of the opera had been planned before the deluge, which affected 400 homes.