Flintshire leisure centres in "sustainability" review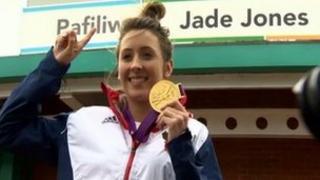 The cost of continuing to run council leisure centres, community centres and libraries in Flintshire cannot be sustained, the council has warned.
Flintshire council faces an overspend of almost £1m at revamped Deeside and Flint leisure centres with income being lower than expected this year.
A review may suggest services share facilities with others transferred to public ownership, a report says.
Councillors agreed to push on with the plans at a meeting at Mold.
The report cited "longstanding under investment" in maintenance of leisure centres and "challenging trading" during the economic downturn coupled with "underachieving" projections set for its revamped leisure centres.
Deeside now includes a health spa, with new gym, indoor skate and scooter park, as well as a climbing wall.
There is also the Jade Jones Pavilion Flint - renamed after the local Olympic 2012 taekwondo champion - and reopened after a revamp with new facilities including a bowling alley.
Despite failing to see the number of visitors at the new facilities as first expected, there were over 1.5m visits to leisure centres across the county in 2012-13, up 300,000 compared with 2009-10.
The council has leisure centres, swimming pools and other facilities in Buckley, Connah's Quay, Flint, Holywell, Hope, Mold, and Saltney among others.
The report said an asset review will consider the future of leisure centres, libraries, youth centres and community centres but it does not name any facilities. Plans could include the:
Library, youth and other community facilities being located at leisure centres
Transferring pavilions and changing rooms to community ownership and control
Alternative models for operating community facilities
"In the current and predicated future economic climate the current level of assets cannot be sustained," said the report.
The terms of the building asset review are due to be discussed next month, according to the report to Tuesday's cabinet committee.
Other Welsh councils have already been trying to set up charitable bodies to cut costs to run their leisure centres and swimming pools.