Wrexham super-prison consultation anger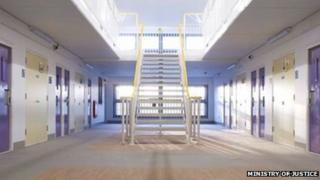 Plans for Wrexham's £250m super-prison have gone on display for the first time amid concern not enough people have been invited to go and have their say.
A leaflet has been sent to homes near where the 2,000-inmate jail is due to be built on Wrexham Industrial Estate.
But the local community council said the plans were so big, a wider area and businesses should also be consulted.
The Prison Service said it sent out 400 leaflets to the surrounding area.
Last week, Justice Secretary Chris Grayling confirmed the jail would be sited on the Welsh government-owned land subject to planning approval.
It will be a Category C prison used for inmates who cannot be trusted in open conditions but who do not have the resources and will to make a determined escape attempt.
Community council chairman Ray Squire claimed about 100 homes in Pentre Maelor had received leaflets inviting them to a pre-application public preview at Redwither Tower, Redwither Business Park, starting on Thursday.
"They should have let everyone know. I thought that was disgusting," he said.
"They said they did not know the geography of the area but they should know - they want to put a prison here."
The information leaflet said the Ministry of Justice (MoJ) would be submitting a planning application to Wrexham council later this month.
It is understood that will be an outline plan which will need to be accepted before full plans are submitted.
If agreed, the jail could be built by 2017 and worth £23m a year to the local economy, say officials.
A Prison Service spokesperson said: "The new prison site will provide a real boost to the local economy in north Wales and Wrexham County Borough Council will consult fully with local residents when the planning application is submitted later this month.
"We sent out around 400 letters to the neighbouring community and businesses and contacted community representatives local to the site to inform them of the pre-application preview."
Mr Squire is concerned the former Firestone factory site near homes is not appropriate for a prison, and that all residents should be allowed to have their say.
Redwither Tower will be open from 09:00 BST daily to view the information, closing on Thursday at 17:00 BST, Friday at 20:00 BST and Saturday at 12:00 BST.
Representatives from the MoJ will be on site to answer additional queries on Friday from 15:00 BST and on Saturday.