Compulsory purchase plan approved for Denbigh hospital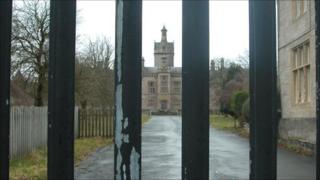 A derelict former hospital could be bought after Denbighshire councillors voted to press ahead with a compulsory purchase order (CPO).
The North Wales Hospital closed in Denbigh in 1995. The council has said an estimated £1m of repairs is needed.
In July, the council took the first steps towards making a CPO, but said it wanted to reach an agreement with the site owners before taking legal action.
Owner Freemont (Denbigh) Ltd has previously said it would oppose a CPO.
The psychiatric hospital closed as part of a reorganisation of health services.
Since closing, the hospital's condition has deteriorated, and buildings have been looted, vandalised and damaged by fire.
Last year it was revealed the bill to carry out emergency repairs at the former hospital had reached £930,000.
Freemont had planned to build up to 280 homes, businesses and community facilities on the site, with the redevelopment enabling the original listed buildings to be restored.
However, the planning consent expired in 2009.
A non-profit North Wales Building Preservation Trust has been established to take over the site if the CPO is successful.
Planners voted 18-1 in favour of pursuing a CPO at a meeting on Wednesday.
Before a CPO is granted, the Welsh government must be satisfied there is a reasonable likelihood of the listed building being restored, using funds from the sell-off of housing land.