Howell's School, Denbigh: Dismissed Bernie Routledge awarded £217,000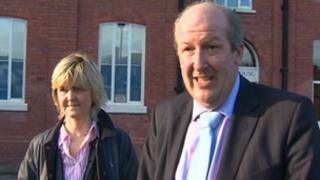 A former head teacher of a private girls' school in Denbighshire has been awarded £216,898 for unfair dismissal.
Bernie Routledge, from Gwernaffield near Mold, and his former partner Helen Price took action against Howell's School in Denbigh in March.
Ms Price, who was head of physical education, was awarded £83,537 by the same industrial tribunal.
The company running the school, established 154 years ago, has gone into liquidation.
Mr Routledge was suspended and later sacked as head of Howell's for alleged "inappropriate" conduct with pupils on Facebook.
He said although he had won his case at the tribunal he had been "professionally and financially ruined", adding he had no hope of receiving the damages because the school had been put into liquidation.
He also said he was angry that false allegations had been made to damage his reputation.
"I'm now in debt," he told BBC Wales. "All my savings have gone on defending my reputation, but what redress do I have? I've been left in a terrible situation."
Ms Price also lost her job as head of PE and pastoral care.
A tribunal in March said there was no evidence of conduct justifying their dismissals and found in their favour.
Howell's trustees said last month the school would not reopen in September, and the company running it, H2000 Ltd, had gone into liquidation.
Speaking about her award, Ms Price said she was glad to have the written judgement.
"It's laid out in the [tribunal] judgement how we were treated," she said.
However, she added: "It doesn't look like we'll get anything. We'll just be in the long line of creditors."
Another former employee, Morwen Murray, who was a senior mistress and head of music at Howell's, was awarded nearly £900 in compensation and costs at an employment tribunal last week.
It was related to what the NASUWT union described as "the unlawful deduction of earnings" when she took time off because of illness.
Union official Colin Adkins said Ms Murray was dismissed without notice in early August and received a P45 a day before the school announced it was closing.
Mr Adkins said Ms Murray, who worked for Howell's for 15 years, is pursuing a claim for unfair dismissal against the school.
He said the union had successfully pursued nearly 10 claims against Howell's over contractual issues in recent years, winning at least £20,000 in compensation.
He said although there was virtually no chance Ms Murray would receive any money, there was a principle involved.