Operation Pallial: John Allen released on bail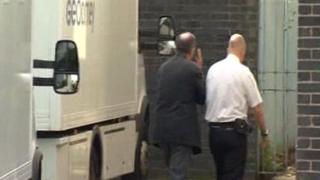 A man accused of the historical sex abuse of 15 youngsters at children's homes in north Wales has been released on bail by a judge.
John Allen, 72, of Ipswich, Suffolk, is charged with 32 offences involving 14 boys and a girl between 1968 and 1989.
Mr Allen, ex-head of the Bryn Alyn Community which ran homes in north Wales, was granted conditional bail at Caernarfon Crown Court.
His legal team has indicated he intends to deny the allegations.
Mr Allen, who was not in court for the hearing, was arrested and charged in August and appeared at Mold Magistrates' Court on 1 August.
He was accused of 32 offences, including 22 of indecent assault, involving children aged between seven and 15.
He was first arrested in April by officers from Operation Pallial, the investigation by the National Crime Agency into allegations of historical child abuse at care homes in north Wales.
A further court hearing is expected in November.
The Bryn Alyn Community was a limited company which operated a total of 11 residential children's homes in north east Wales, Cheshire and Shropshire.