Reaction to £250m super-prison location announcement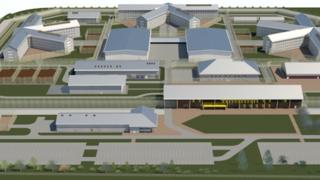 The announcement of a £250m super-prison on a former industrial site in Wrexham has been given a largely warm welcome by local politicians.
Secretary of State for Justice Chris Grayling confirmed on Wednesday the 2,000-inmate jail would be sited on the Welsh government-owned former Firestone site.
Work will begin on site next summer with the prison fully operational by late 2017. It will provide up to 1,000 jobs.
It will be a Category C prison used for inmates who cannot be trusted in open conditions but who do not have the resources and will to make a determined escape attempt.
Ian Lucas, Wrexham MP (Labour)
"Wrexham has suffered the effects of low growth in recent years as the direct result of Government policies so a boost to local employment will be welcomed in the town.
"However, for this development to be truly sustainable, we need to help equip Wrexham with new roads, better rail links and improved skills, and I hope that the minister will meet me as soon as possible to help secure the best possible result for our local economy."
Wrexham council leader Neil Rogers (Labour)
"The latest figures we have is that there are 3.7% of people unemployed in Wrexham, slightly above the Welsh average. And over 1,000 young people aged 16-24.
"We recognise we have to go through the process of planning. This project is worth £250m for construction. It will fetch annually to the local economy between £20-25m.
"It will create up to 1,000 jobs and we need to work now with our partners in the public services, for example the probation service in north Wales, North Wales Police, both the university and sixth-form college.
"In the next phase there will be a consultation with people that live and work on Wrexham Industrial Estate. That will take place shortly. If they (Ministry of Justice) have been successful with the planning process it will start next year."
North Wales Police and Crime Commissioner Winston Roddick (Independent)
"For many reasons, this is very good news for north Wales. It will benefit the people, economy and culture of north Wales and it will improve the administration of justice in north Wales.
"The local economy will get a great boost from this project. Not only will the construction phase bring jobs and business opportunities, the running of the prison will offer a whole host of much-needed career opportunities for our young people.
"A new prison in north Wales will also facilitate the rehabilitation of offenders by making them more accessible to their families and the probation service.
"It is fantastic to see this moving forward and a great boost for north Wales. Everyone who has backed this initiative should be congratulated."
Clwyd South AM Ken Skates (Labour)
"Our region does not currently have any facilities to house local prisoners, and my constituents in Clwyd South who have family in prison currently have to travel a long way to HMP Altcourse in Liverpool to visit them.
"Importantly, I feel this could help reduce crime rates in north Wales as the odds of re-offending are 39% higher for prisoners who do not receive regular visits.
"While not everybody is supportive of the prison being built here in north Wales, the potential economic benefits to the region are obvious.
"As well as a much-needed jobs boost, the building of the biggest jail in Britain will present huge opportunities for local businesses and provide millions of pounds worth of construction work."
North Wales AM Mark Isherwood (Conservative)
"The announcement of a new prison for north Wales has served as a huge boost for the region and I welcome news of its chosen site, which I have supported since the aborted proposals for a new north Wales prison under the previous Labour UK government.
"This is an enormously significant project, injecting jobs, confidence and investment.
"Its announcement was a huge lift for north Wales and a further sign of the Conservative-led UK government's commitment to the Welsh economy."
Community councillor Ray Squire, representing Pentre Maelor in Wrexham
"Would you want a prison on your doorstep? There are single ladies living down here. When you read about how many prisoners are lost when they're being transported... would you feel safe?
"This will be visible from our homes. It's four storeys high. We have never been consulted by anyone on these plans.
"The environment that we live in has been overlooked by the Welsh government and the council. All they can see is pound signs."
Gill Atkinson, Wrexham Business Professionals
"It's a massive boost for the local economy and the super-prison will create 1,000 precious jobs that will help generate prosperity for many years to come.
"This is a once-in-a-generation prize, the like of which we will probably never see again in north Wales because there won't be any other 1,000-job establishments created here.
"The spin-offs for the local economy will be huge with opportunities to provide goods and food, which could benefit farming as well as sub-contracted services."