Travellers leave Alyn Waters Country Park in Wrexham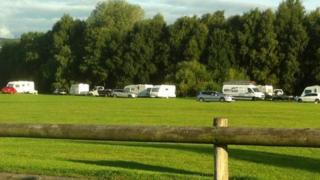 Travellers camped on a country park near Wrexham have begun to leave after a deadline set by a court order passed.
Around a dozen families were left at Alyn Waters country park at Llay after the local authority was granted an eviction order on Wednesday.
A deadline for the travellers to leave by 17:00 BST on Thursday had been set by Wrexham magistrates.
Wrexham council said bailiffs would be called if any travellers remained on the site on Friday morning.
The council went to court after around 16 families camped on a youth football pitch at the country park last week.
'Bring in bailiffs'
Their arrival, with up to 20 cars, caravans and vans, forced Llay United Youth Football Club to re-arrange training for more than 150 youngsters who use the pitches in the country park for nightly coaching sessions.
Once the eviction order was granted on Wednesday, a few travellers began to leave.
Councillor Hugh Jones, lead member for communities, partnerships and collaboration, said: "Following the serving of the court order and with the help of council officers working with the police the travellers have now started to leave the site.
"They are all expected to have left the site by this evening.
"If they all fail to leave the site the council will bring in bailiffs tomorrow."
Alyn Waters Country Park covers 400 acres (162 hectares) of land on both sides of the River Alyn and is the largest facility of its kind in Wrexham county borough.