Travellers ordered to leave Alyn Waters Country Park in Wrexham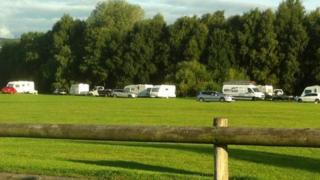 A group of travellers camped on a youth football pitch in a country park near Wrexham have been ordered to move or face eviction.
Council officials have been granted an injunction for the travellers to leave the unauthorised site in the Alyn Waters country park at Llay.
The order granted by Wrexham magistrates gives the caravan dwellers 24 hours to leave.
Some of the 16 families have since left but about a dozen still remain.
Councillor Hugh Jones, Wrexham council's lead member for communities, partnerships and collaboration, said: "I would urge those travellers who have taken up residence on this public land to leave as soon as possible."
A council spokeswoman added: "The council will now serve the order granted by the magistrates today [Wednesday] - once served the travellers will have 24 hours to leave the site.
"The council will review the situation again after 24 hours."
The arrival of the travellers a week ago, with up to 20 cars, caravans and vans, forced Llay United Youth Football Club to re-arrange training for more than 150 youngsters who use the pitches in the country park for nightly coaching sessions.
The club hired facilities at neighbouring leisure centres instead but some pre-season matches last weekend had to be called off.
Club officials remain concerned that damage to the field could make the pitches unplayable when the season begins in September.
Alyn Waters Country Park covers 400 acres (162 hectares) of land on both sides of the River Alyn and is the largest facility of its kind in Wrexham county borough.