Communities First Flintshire project tackles youth job confidence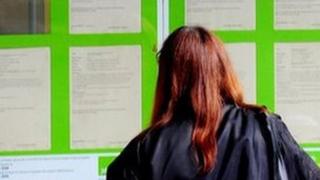 A new project is targeting young unemployed people in Flintshire to make them more confident and better prepared when looking for work.
Communities First hopes its employability club will give young people the skills and the ambition needed to find a job.
Figures show that 25% of 16 to 24-year-olds in Deeside are unemployed.
There are more than 8,000 households across Flintshire where no-one works at all.
Communities First is the Welsh government's flagship anti-poverty programme in some of the most deprived areas of the country.
Over the past decade more than £300m has been spent by local partnerships trying to improve the health, education and quality of life of people in the hardest-hit areas.
James Harrison, 22, of Connah's Quay, hopes the new project in Flintshire will help him.
He has found some work through agencies but has been unable to find a permanent job.
"Since I've come out of school I've only worked two jobs and they were both through agencies. There's not much out there," he said.
"I think the UK has had it basically for work, especially for young people."
'Interview skills'
The Communities First employability club is looking to help young unemployed people gain the skills needed to get a job and the confidence to aspire to better jobs.
Kate Thew, project leader for the Deeside Communities First programme, said a project specifically aimed at the 16 to 24-year-old age group was needed.
"A lot of things are geared to people who have already been in employment previously and have experience," she said.
She said representatives from Careers Wales would be holding the employability club workshops.
"These will be geared around interview skills, CV writing and how you are presenting yourselves - raising people's aspirations and seeing what career paths there are," she added.
"I think it's more not being able to identify the opportunities that are around rather than a lack of wanting to.
"Sometimes you just don't know which path to choose and you can be bombarded with information, so it's getting a bit of clarity on that.
"It's quite open to everyone in every situation."
Opportunities in industry and retail will be among sectors the jobs club will urge young people to look at.