£10m rail improvement work starts on Wrexham to Shrewsbury line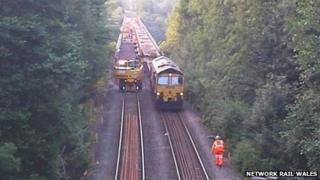 Work has begun on a £10m project to upgrade railway tracks between Wrexham and Shrewsbury allowing more modernised services, Network Rail Wales has said.
Route managing director Mark Langman's comments came as buses replace trains on the 10 mile (16km) line this week.
He said the upgrade will allow for quicker journeys on a more reliable network and will boost the economy.
The news follows a row over stalled plans for improvements along the Wrexham-Chester rail line and roads.
The railway track is being replaced and re-aligned between Wrexham and Shrewsbury to reduce noise and create a "smoother ride" for passengers.
The stretch of line should be reopened by next Monday with all the work completed by the end of September.
Mr Langman said a "robust railway will also help drive economic growth across the country".
He added that other improvements in progress included upgrades to stations such as Wrexham and Prestatyn with more work planned along the line at Flint, Llandudno and Newport.
'Resilient and reliable'
"This latest investment in the future of the railways across Wales and the border counties of England forms a key part of our modernisation plans to bring the railway across the region into the 21st Century," he said.
"The next steps in the modernisation programme include our plans to modernise the signalling and control systems between Newport and Shrewsbury and from Flint to Llandudno, starting in 2015.
"All of these investments will deliver a real improvement to passengers with the potential for quicker and more frequent journeys on a network that is more resilient and reliable."
Last week a row broke out as assembly members accused ministers of failing to tackle delays in road and rail projects to boost the north Wales economy as the Federation of Small Businesses (FSB) said local firms were suffering.
Seven miles (11km) of single rail track is due to be doubled between Wrexham and Saltney Junction, part of a £36m Welsh government-funded project to improve the journey time between north and south Wales.
It would allow trains to travel up to 90mph (114km/h) in sections.
The work was due to be finished by early 2015 but Transport Minister Edwina Hart is now reviewing the plans following delays.
An assembly committee which scrutinises First Minister Carwyn Jones has now written to him to express its disappointment over the lack of progress.
A Welsh government spokesperson said the first minister would respond in due course.