Memorial marks 160th anniversary Rhyl lifeboat tragedy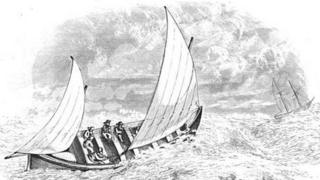 Rhyl RNLI volunteers are installing a memorial to mark the 160th anniversary of a rescue which ended in tragedy with the loss of six lifeboat crew.
Three other crewmen managed to get ashore after the boat was wrecked while going to the rescue of another vessel in 1853.
Volunteers raised the funds to pay for the sculpture in their own tribute.
It is being installed on Rhyl front on Wednesday with a dedication ceremony due to take place next month.
Owen Jones, the coxswain of the 1853 boat, Gwylan y Mor, was one of the survivors of the tragedy which happened when they went out in a gale.
Mr Jones is reported as telling the coroner's inquest at the time that another crewman managed to get back into the boat while another was by the side of the vessel "holding the rope with his teeth", say archives uncovered by Rhyl History Club.
'Right thing'
The other boat had disappeared by the time the crew arrived on scene after responding to a telegraph message for help.
And it was then that the lifeboat crew encountered their own difficulties with the boat capsizing and its mast breaking, throwing them into a "heavy sea".
The six who died left four widows and seven children.
Over the last year, RNLI volunteers raised funds with the help of the local community to commission a sculpture.
Designer Mike Owens from Afonwen, near Mold, Flintshire, has created oak structures arranged like waves with seagulls representing the lost crewmen.
RNLI crewman Callum Robinson said: "A group of us decided to do this as there is nothing here locally to say that six crew lost their lives.
"We thought it would be the right time to do something with the 160th anniversary year."