Corwen flood relief plan 'could generate power'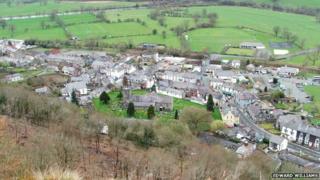 A £2m flood relief project for a Denbighshire town could include a hydro electric generator creating power and cash for the area, it is claimed.
The project would channel streams above Corwen to keep the town safe from water while generating electricity.
Regeneration agency Cadwyn Clwyd said the sale of power could earn £40,000 a year for a community group running the 20-year project.
Denbighshire council and Corwen's Rhug Estate are also involved in the plans.
Cadwyn Clwyd energy officer Silas Jones said a feasibility study showed water from the Nant y Pigyn stream 152m (500ft) above the town flowing at 45 litres a second could power a 55 kilowatt generator housed in a purpose-built building in the town.
In turn, that could generate enough electricity to power more than 30 homes.
'Real boost'
Mr Jones said: "We have worked with Denbighshire council who have a project to prevent persistent flooding caused by a culvert that runs through the town, under buildings.
"They have encouraged us to develop the hydro power plan and the two will run side by side, with the flood defence scheme benefiting the hydro scheme."
The project would use water that drains down the Nant Cwrddu and Nant y Pigyn streams to power the generator.
It would also reduce the risk of the Nant Cwrddu stream flooding under the Owain Glyndwr Hotel after heavy rain.
The Welsh government announced funding for the £1.8m flood alleviation work earlier this month.
If the additional £300,000 start-up costs for a hydro power project can be raised with local backing, a guaranteed income would be generated through feed-in tariffs.
Huw Jones, a Denbighshire county councillor for Corwen, said: "The flood alleviation scheme is taking place and that makes the hydro project possible.
"If we can get local people and local organisations involved then it can be a real boost to Corwen for years to come."
A public meeting is due to be held at the Corwen Sports Pavilion on 12 September at 18:45 BST in a bid to find local investors and people to run the project.