Llay cancels football matches due to Alyn Waters travellers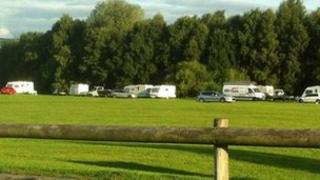 A junior football club has called off pre-season games at the weekend as travellers continue to camp on their pitches at Wrexham.
Up to 20 cars, caravans and vans arrived at Alyn Waters Country Park, which is used by Llay United Youth FC, earlier this week.
Over 150 youngsters use the pitches each week for training sessions, which have had to be moved.
Landowner Wrexham council said it was preparing to take court action.
The club is concerned the field could be damaged and may delay the start to their season on the weekend of 7-8 September.
Club secretary Dave Adams said facilities at neighbouring leisure centres had been hired over the last week to allow training to continue for teams from under-sevens to under-16s.
And he has provisionally booked pitches elsewhere to head off potential problems at the start of the season.
He said the club had a contingency fund to cover unforeseen circumstances.
Wrexham council has said the camp was not illegal but was unauthorised and it would look to take action.
Councillor Hugh Jones, lead member for partnerships and collaboration, said: "The council has done everything within its power to prepare the case for an injunction to ensure the site is vacated as soon as possible.
"Unfortunately we are now waiting on other agencies to provide information and evidence vital to the court case.
"Notwithstanding the efforts of our officers, this information is not available and the case is unable to proceed. The council is ready to proceed immediately when we have the required evidence."
Alyn Waters Country Park covers 400 acres (162 hectares) of land on both sides of the River Alyn and is the largest country park in the county.
North Wales Police said it received numerous calls from the public on Sunday from 21:00 BST to say that caravans and vehicles were arriving at the park.