Howell's School, Denbigh, goes into liquidation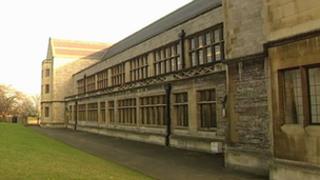 The company running a private girls' school in Denbighshire has gone into liquidation.
Howell's School in Denbigh closed suddenly earlier this month with parents told they would have to find an alternative school for their children.
Another company associated with the school, H2000, formerly Howell's 2000 Ltd, has also gone into liquidation.
Trustee Nicola Locke said: "We simply couldn't continue."
A meeting of creditors of Howell's School was held in Manchester on Wednesday.
Financial specialists from the Manchester office of accountancy firm Royce Peeling Green have been appointed as liquidators.
Places offered
The school, established 154 years ago, told parents at the beginning of August that it was closing because of financial uncertainty.
An email from the trustees said uncertainty about the compensation arising from the dismissal of a former head teacher posed a risk of closure part way through the year.
Former head Bernie Routledge said he and another teacher who won an unfair dismissal case against the school were being wrongly blamed for the closure.
Royce Peeling Green said they were unable to give more information about the liquidation.
The school was registered as a charitable company with trustees Nicola Locke and husband Robbie named as the directors.
Originally called Howell's 2000 Ltd, the school's company name was officially changed to H2000 Ltd in January this year.
It is understood about 30 former Howell's pupils have now been offered places at other private schools in north Wales and surrounding areas with many going to Ruthin school and Penrhos Rydal school at Colwyn Bay.
Howell's School trustee Nicola Locke said: "There was a meeting yesterday and it was agreed that because of the financial situation we simply couldn't continue.
"We still don't know how much compensation will be awarded. We didn't want to take any money from parents for the new term and then find that we could not fulfil our commitments.
"It was a heartbreaking decision to take. The school has been in existence for 154 years and it's not something we've done lightly. My own daughter has been through the school and this is the worst decision we've ever had to make."