£3m business unit plan proposed for Deeside Industrial Park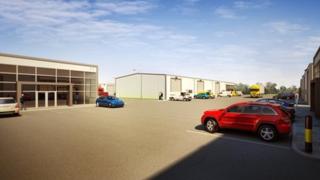 A £3m plan to build extra business units to meet demand from industry has been proposed for Flintshire.
Landscape supplies firm Dandy's wants to build 18 new units on land it owns on the Deeside Industrial Park.
Ranging in size from 3,000 sq ft to 10,000 sq ft (280-930 sq m) they would be built on a six acres (2.4 ha) site to buy or lease.
The company's owners claim the park is running out of space and will submit plans to Flintshire council in a month.
Jobs potential
Managing director Adam Dandy claimed there was demand for new units.
"We're trying to meet that demand by putting forward these plans and everyone is being very supportive," he said.
"I think it would be fair to say it would create ten jobs per unit, so there's potential here for at least 180 jobs, possibly several hundred."
Stephen Wade, director at property specialist Legat Owen, hoped the Welsh government would support the park's development by reintroducing the property development grant that used to be funded by the former Welsh Development Agency to support new projects.
"The designation of the park as an enterprise zone is having a really positive effect with existing businesses expanding and others wanting to move in," he said.
"Since the turn of the year, the supply of floor space has begun to tighten and we need the help of the Welsh government to take things forward to the next level."
Mr Wade warned that without more development there was a danger that the park would run out space within a year.
"We know the demand is there, but we need the intervention of the Welsh government to help ensure that doesn't happen."
Askar Sheibani, chairman of the Deeside Industrial Park Forum and boss of local telecoms repair business Comtek, said: "It's particularly welcome that the 18 units being proposed will be for smaller and medium sized businesses.
"We have carried out a survey and it's clear that we don't have enough high quality units to attract more businesses to the area.
"A lot of work has been put in to promoting Deeside Industrial Park enterprise zone internationally and this has attracted a high level of inquiries, but we need to ensure that enough space is available."