Dolphin swims miles up River Dee in Flintshire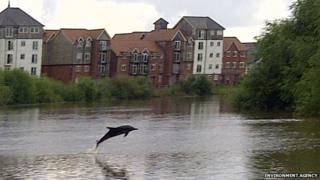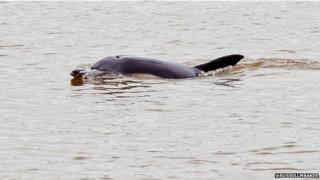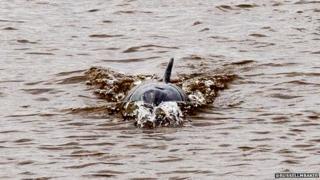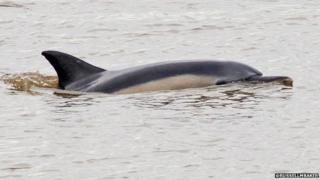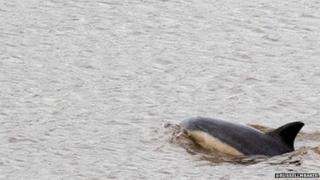 A dolphin is being monitored by a marine rescue charity after swimming miles up the River Dee in Flintshire.
The mammal was spotted by the public in Connah's Quay docks on Monday but swam up river to Saltney, near Chester.
It became stranded briefly on Tuesday afternoon after turning to make its way to Flint and back towards the sea.
It is rare for dolphins to be seen in the River Dee but a pair of porpoises were reported near Queensferry Bridge eight years ago.
Volunteer animal medics said was continuing its progress downstream towards the sea, but still has some way to go.
They had to roll it back into the water after it was stranded for a short time close to Queensferry.
"Sometimes it goes back upstream for a bit and then turns round, but it seems to be okay," said veterinary surgeon Phillipa Mahon from Whitchurch in Shropshire who has been following the dolphin throughout the day.
"It's feeding as it goes," she said.
'Concerned'
"We were a bit worried about it going past the water treatment plant near the Airbus UK plant at Broughton, but it managed it fine."
A team of specially trained volunteers from the charity British Divers Marine Life Rescue will be keeping track of the dolphin throughout the night and until it finds its way back to sea.
And they have been joined by a coastguard rescue team which is also providing assistance as it headed back towards the sea passing Queensferry and reaching Flint, and deeper water, on Tuesday evening.
After spotting it on Monday evening, Russell Baker who took photographs of the dolphin, said that at first he was concerned for its welfare as it was "slowly circling in the same area for quite some period of time".
Stephen Marsh, from charity British Divers Marine Life Rescue, said: "The reports from the public said it was swimming quite a lot, clicking quite a lot, so it's probably feeding.
"Unless it gets into difficulty we don't really need to intervene.
"We will monitor it and hope it goes back out to sea."
The dolphin, which was originally believed to be a porpoise, was seen at Connah's Quay docks late afternoon on Monday.
Mr Marsh said it had gone as far north as Saltney, many miles inland.
He said it was an unusual incident but not unheard of, especially considering the current high tides.
"We've got a full moon which can affect the tides so they will be higher and lower than normal," he said.
He also warned people to stay away from the dolphin.
"It's a common dolphin, a deeper water species [than porpoises], so it's more important that it's not harassed by the public," he added.
"Disturbance is an offence under the Wildlife and Countryside Act."