Wrexham murder inquiry pub: Fresh licence application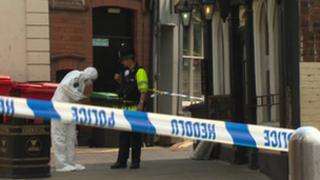 A fresh attempt is being made to reopen a Wrexham town centre pub at the centre of a murder investigation.
The Cambrian Vaults was shut in June at the request of police after Craig Maddocks, 34, from Llay, died. A man aged 45 has been charged with murder.
In July, Wrexham councillors revoked the licence after hearing about disorder, both in and outside the pub.
Marston's Brewery has submitted a new licence application, claiming the decision to revoke it was "draconian".
Last week it was revealed that the brewery had repossessed the pub after the lease was forfeited.
A Wrexham council spokesman said: "We can confirm we have received an application from Marston's for 'films, indoor sporting events, live music, recorded music, performance of dance plus the sale of alcohol from 10am to 11pm'. "
The spokesman said the copies of the application had been sent to the police and fire service and all responsible authorities.
A Marston's spokesperson said: "We can confirm that we have submitted an application for a brand new premises licence and are awaiting a decision."
Anyone who wants to make representations should contact the Licensing Department at Wrexham Council by 11 September, he added.