Travellers set up on Alyn Waters Country Park in Wrexham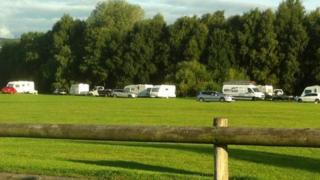 Travellers have set up camp on football pitches at a Wrexham country park forcing club officials to cancel children's training sessions.
Up to 20 cars, caravans and vans arrived at Alyn Waters Country Park, which is used by Llay United Youth FC.
More than 150 youngsters use the pitches each week and residents are concerned the field could be damaged.
Wrexham council said the camp was not illegal but was unauthorised and it would be taking immediate action.
Dave Adams, secretary of Llay United which runs 16 teams for youngsters aged from under-five to 11, said the club has been forced to cancel this week's training sessions.
"It's the only pitch we've got in Llay and it's seriously affecting us," he said.
"We get around 30 children training every evening but we've had to cancel this week's sessions while we try to find somewhere else for them to train.
"Our season is due to start in a fortnight and if it rains while the travellers remain there it could turn into a mudbath and the pitch will be unplayable for months."
Lawrence Isted, Wrexham council's head of community wellbeing and development, said: "The encampment is an unauthorised encroachment onto our land but it is not illegal for somebody to do this.
"However, given the scale of the encroachment we are hoping to take early legal action to remedy the issue."
Alyn Waters Country Park covers 400 acres (162 hectares) of land on both sides of the River Alyn and is the largest country park in the county.
North Wales Police said it received numerous calls from the public on Sunday from 21:00 BST to say that caravans and vehicles were arriving at the park.
A force spokesperson said the council was dealing with the matter.