Offa's Dyke damage claims: Police investigate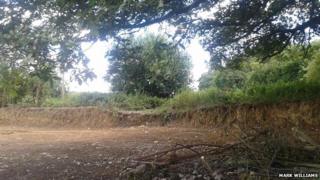 Police say an investigation is now under way after reports a large section of Offa's Dyke ancient earthwork was damaged near Wrexham.
North Wales Police confirmed it had been passed information by Welsh government historic environment service Cadw.
The protected 1,200-year-old monument, built in the 8th Century, appears to have been excavated on land near Chirk.
Cadw said it was too soon to say whether the dyke could be repaired.
A spokesman for the Welsh government said information was handed to North Wales Police on Monday.
The linear earthwork stretching 177 miles (285 km) is a protected ancient monument built in the 8th Century.
It is thought that King Offa of Mercia built it as a boundary between his domain and Wales.
It is said to be traceable along 80 miles (130 km) from the Wye valley to Wrexham.
The area attracts up to 15,000 visitors a week during the summer, many of them walkers from all over Europe.