MP Ian Lucas concerned at Gwersyllt Post Office proposal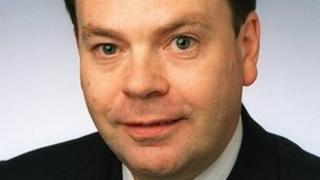 The Post Office has been urged not to move one of its Wrexham offices to a shop near a busy road.
Wrexham MP Ian Lucas wants management to look at alternatives to a proposal to move Gwersyllt's Post Office to a service station on Mold Road.
Mr Lucas said: "Staff and customers have contacted me and are clearly concerned, and I share some of the concerns."
The Post Office said the proposal was out to public consultation.
A petition opposing the move from Hope Street already has 2,000 signatures,
Mr Lucas has since written to regional management setting out his concerns the proposed new office is not at the centre of the village and is near a busy road.
He is also worried about how elderly people will be affected by the changes.
"It is important that as many people as possible who have concerns make them known, in individual letters if at all possible," he added.
The Post Office said responses to the public consultation can be sent by 10 September to its National Consultation Team, Wealdstone Post Office, 1st Floor, Admin, 2 Headstone Drive, Harrow, HA3 5QL or email comments@postoffice. co.uk.