Deeside Community Hospital: Inquiry looks at historical abuse claim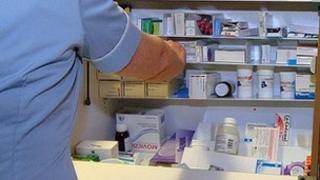 An inquiry into nursing care at a north Wales community hospital was launched after an allegation of historical abuse, said a health watchdog.
It relates to an allegation into the care of an elderly patient in 2004 at Deeside hospital.
It emerged after concern over patient care was raised by a coroner and the hospital trust looked into matters.
A small number of nursing staff have been told not to undertake care duties while the inquiry is under way.
Betsi Cadwaladr University Health Board's new director of nursing, Angela Hopkins, announced on Thursday that concern over the care, dignity and respect of the hospital's patients had been raised which led to nursing care being examined.
During this analysis, an allegation relating to an incident in 2004 was discovered and a formal investigation was launched.
In a statement the health board said: "Agencies are working together following national POVA (Protection of Vulnerable Adult) procedures to ensure any concerns are properly investigated in a coordinated manner.
"The health board, North Wales Police, Healthcare Inspectorate Wales and the local authority are all part of this process."
On Friday, the local health watchdog, North Wales Community Health Council, said the actions of the health board had been responsible.
Chief officer Geoff Ryall-Harvey said: "The new director of nursing's actions have been very responsible and she's done the right thing to refer it to the police."
He added that the community health council (CHC) had inspected the hospital recently and there was nothing out of the ordinary found.
He said the number of complaints the CHC received about the hospital was no greater than for anywhere else, and he believed this was a single incident.
Critical reports
It is the latest incident to be raised in the health board's hospitals in recent weeks.
On Tuesday, the health board issued an apology after it was criticised for its handling of a Clostridium difficile (C. diff) infection outbreak at Glan Clwyd Hospital in Bodelwyddan, Denbighshire.
Last week, the health board was reported to NHS inspectors over incidents of poor patient record keeping.
And the board of management said last month it fully accepted a highly critical report on mismanagement.
The joint report by Healthcare Inspectorate Wales and the Wales Audit Office saw the chairman of the health board and its chief executive step down after the report found a breakdown in their relationship contributed to the failings.
The latest inquiry at the Deeside hospital has meant that admissions to one of the hospital's two wards have been suspended for the time being.