Cardiac health scanner worker detects own heart tumour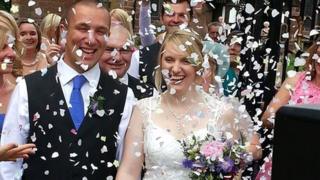 A hospital worker who scans hearts spotted a tumour growing inside herself after volunteering to allow a colleague to practise on her.
Amy Sherwood, 33, who works as an echocardiographer at Wrexham Maelor hospital, was taking part in training when she saw a shadow on her heart.
Within days she had a new type of keyhole surgery to remove the tumour.
It meant a shorter recovery time which allowed her to marry her fiance Simon Bowden two weeks after the operation.
Ms Sherwood said she had been stunned to see a suspicious shadow on her heart during training.
She said: "Although I've been carrying out echocardiograms on patients for a number of years, never in my working life did I imagine that I would find a problem with my own heart - especially so close to my wedding day.
"Just a couple of days after discovering the shadow, I was taken straight into theatre and surgeons performed a minimally invasive procedure to remove the tumour."
Surgeons at the Liverpool Heart and Chest Hospital undertook the keyhole procedure instead of open heart surgery.
Consultant cardiac surgeon Paul Modi said the traditional technique would have required a three month recovery period.
"Clearly, Amy would not have recovered for her wedding day with this and would have had a visible scar on the front of her chest," he said.
Minimal visible scarring
"However this new technique uses a small incision on the right side of the chest to give access to the heart and a high-definition video camera is then used to guide the procedure inside.
"This type of surgery is a significant advance for the treatment of selected heart tumours as it leaves minimal visible scarring and allows patients to return to regular activities within three weeks."
Ms Sherwood married Mr Bowden at St Alban's Church in Tattenhall, Cheshire, on Saturday.
Before her honeymoon, she said: "There's no way I would have recovered sufficiently to make it down the aisle if a traditional surgical procedure had been performed.
"I'm just so grateful for the quality of care and treatment that I received from Mr Modi and all his team, which helped to ensure that my wedding was even more special."