Bodelwyddan Hotpoint site: Reflex & Allen deal collapses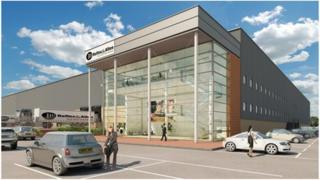 A deal to move Denbighshire car components firm Reflex & Allen to the nearby former Hotpoint site in Bodelwyddan has fallen through.
But developers Hadleigh Industrial Estates said they still wanted to bring a manufacturer on board.
They have also applied to build 134 homes as part of a £20m project.
Director Richard Lanyon said: "The plans, as submitted, remain the only viable option - without the mix of uses we've identified, it'll remain empty."
The old Hotpoint washing machine factory, which once employed 1,000 people, closed in 2009 with 300 job losses.
In June this year the prospect of a deal with Reflex & Allen to create an "automotive industrial park" was floated.
The car components firm has a plant on Kinmel Park in Bodelwyddan, on the other side of the A55, where it manufactures pneumatic and hydraulic tubing.
In addition to refurbishing the old Hotpoint site, the development also included new factory units, training centre and regional ambulance centre.
Mr Lanyon said the collapse of the deal showed the fine tuning of the funding arrangements.
He said: "Nobody has fallen out with anybody.
"Reflex & Allen were faced with a situation where they had to vary the terms at the last minute before signing.
'Key strategic site'
"We've always said that the economics of the deal were finely balanced and this rather frustratingly proves the point.
"Any variation to the funding, whether in terms of the price for the refurbished factory or the housing, make the scheme unviable."
Mr Lanyon said £20m would still be invested in the site if the planning permission is granted.
He estimated the site could provide up to 400 jobs.
"This is a key strategic site for manufacturing in Wales and we're hopeful of full support from Denbighshire's planning committee in September so that we can continue to pursue a manufacturing tenant for the factory."