Operation Pallial: More complaints against John Allen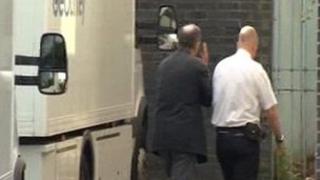 More alleged victims of a man accused of the historical sex abuse of 15 youngsters at children's homes in north Wales have come forward to police, a court has heard.
John Allen, 72, is charged with 32 offences involving 14 boys and one girl, aged between seven and 15.
Eight more people have come forward to police to make complaints, Caernarfon Crown Court was told.
He has yet to plead but his lawyer said he intends to deny all the charges.
Mr Allen was arrested and charged last week and appeared at Mold Magistrates' Court on 1 August, accused of 32 offences, including 22 of indecent assault.
The alleged offences span from 1968 to 1989.
Video interviews
Prosecutor Karen Mullin said since Mr Allen's first appearance in court more potential victims had made contact with police.
She told judge Merfyn Hughes QC: "Since August 1 I can tell you that eight further victims have come forward.
"Obviously the police are making arrangements for them to be video interviewed as soon as possible.
"The police are doing everything they can to progress the investigation."
John Gibson, defending, said: "When my learned friend refers to victims coming forward, Mr Allen denies these allegations.
"It is better to use 'accusers' have come forward. I know it's pedantry."
Judge Hughes said: "Well the word I use is complainants."
He remanded the defendant in custody for a further hearing on 28 October.
Mr Allen, from Ipswich, Suffolk, was first arrested in April by officers from Operation Pallial, the investigation by the National Crime Agency into allegations of historical child abuse at care homes in north Wales.