Holt Castle's stone work exposed by Wrexham council dig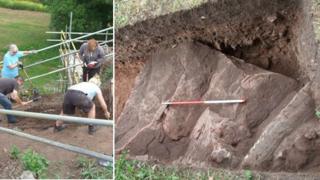 The stone foundations of a 13th Century castle have been unearthed after a six-week dig by volunteers.
Holt Castle in Wrexham was built in 1282 but was used as a stone quarry from the mid 17th Century after it was abandoned.
Wrexham council's archaeological services was funded to carry out a dig at its remaining central courtyard.
The dig found the foundations of one the castle's original five towers and traces of the former entrance tower.
The castle was built by the Norman baron John de Warenne, the seventh Earl of Surrey, on land given to him by Edward I.
Originally the castle had a central pentagonal courtyard with five massive towers linked by a curtain wall and surrounded by a ditch cut in the rock.
All that remains is the central courtyard.
Wrexham Museum access and interpretation officer Jonathan Gammond said: "It's so easy to be deceived by the scant remains, to think that it wasn't in any way important, that it wasn't well situated.
"But the digs have discovered the full size of the castle, they've also discovered the full height of the castle. Suddenly, this location makes perfect sense.
"It was a big castle. You have to imagine something the size of Flint Castle.
"What remains now is rather small in comparison but it was a big place and it dominated the local landscape."
Mr Gammond said one of the aims of the digs was to gain a sense of the size of the towers.
The team found the foundations of the exchequer tower which controlled access from the outer drawbridge to the inner drawbridge.
The castle would have had four storeys above the ground in addition to the two levels leading to the foundations.
Much of the castle was "slighted" - partially demolished to make it indefensible - after the English Civil War and many of its stones taken away by Sir Thomas Grosvenor to build a hall in Cheshire at the site of what is now Eaton Hall.
Wrexham council's heritage service manager Stephen Grenter said the next step would be to allow visitors to see the scale of the site.
He said: "I am delighted that we have been able to find clear evidence of the castle's massive defences which have lay hidden for around 300 years.
"The hope is that we can permanently expose some of what we have discovered as a reminder of its former glory."
The excavations were funded by the Welsh government, the European Agricultural Fund for and by Wales' heritage body Cadw.