Euticals at Sandycroft, Flintshire, in liquidation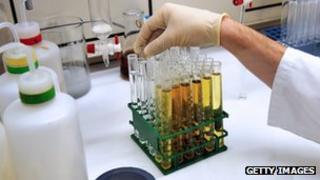 A pharmaceuticals factory where potentially explosive chemicals were discovered has gone into liquidation, Flintshire council says.
Isosorbide dinitrate, known as ISDN, was found at Euticals in Sandycroft last November, and most has since been removed by experts.
After the firm's liquidation, the council said the site would be de-commissioned.
There is no new risk to public safety, it added.
In a statement, the council's chief executive, Colin Everett, said: "The interim management includes the appointment of a security company to patrol the site."
He said a separate contractor would maintain the effluent treatment plant to avoid any discharges into the water system or the environment.
"There are no new risks to public safety," said Mr Everett.
"The public is reminded that this is a former chemical plant with chemicals stored within it."
ISDN is used to make angina medication.
Mr Everett said agencies including the Health and Safety Executive and fire service, were "progressing plans to decommission the site and safely clear and dispose of all residual chemical materials".