ChildLine: Esther Rantzen appeals for north Wales volunteers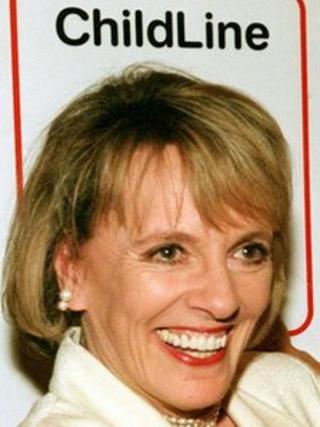 ChildLine founder Esther Rantzen has appealed for more volunteer counsellors in north Wales on a visit to its base in Denbighshire.
The charity moved to bigger offices in Prestatyn in May and wants to build on the 116 volunteers who work there.
The free 24-hour confidential helpline for children has been providing support and advice in the UK since 1986.
The former BBC presenter described ChildLine's work as "wonderfully rewarding".
The charity opened a call centre in Rhyl in the early 1990s before moving to Prestatyn in 2008 and switching to larger premises in the town earlier this year.
It also has a call centre in Cardiff, and 12 in total across the UK.
ChildLine said since 1986 it had handled more than 2.9 million counselling sessions with children and young people, either by phone or via its online service.
The charity said the children and young people who made contact had worries about a range of issues including family relationships, bullying, self-esteem, self-harm and physical abuse.
The Prestatyn team handled 19,253 inquiries from children from across the UK in 2012-13, ChildLine said.
'Transforming' lives
Ms Rantzen said: "We already have a dedicated network of volunteers in Prestatyn doing a sterling job for children and young people, and I have always enjoyed my visits here.
"However, the fantastic new premises mean that our capacity has increased and we urgently need more volunteers to achieve our aim of answering every contact made by a child or young person in danger or distress.
"It is wonderfully rewarding work, transforming children's lives and protecting them from pain."
Ann Pulling, ChildLine area manager in Prestatyn, said volunteers came from all walks of life and did not need to have training or qualifications in counselling to apply.
"We provide full training to all successful applicants," she added.
"All you need is a commitment to children and young people, an open mind and an ability to listen and support young people who need to talk."