Denbigh Victorian hospital's compulsory purchase plan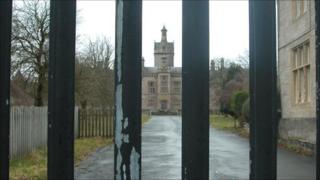 The first steps have been taken towards making a compulsory purchase order (CPO) for a derelict Victorian hospital in Denbighshire.
However, council officials will still try to reach a deal with the owners of the North Wales Hospital in Denbigh without resort to legal action.
Since the former hospital closed in 1995 its condition has deteriorated with urgent repair bills nearing £1m.
The owners Freemont (Denbigh) Limited have been asked to comment.
Denbighshire councillors met on Tuesday and said a final decision regarding the hospital site will be made on 11 September.
The psychiatric hospital closed as part of a reorganisation of health services.
Since then the buildings have been looted, vandalised and damaged by fire.
A year ago it was revealed that the bill to carry out emergency repairs at the former hospital had reached £930,000.
The authority claimed the costs from the owners but the bill has not yet been paid.
Freemont had planned to build up to 280 homes, businesses and community facilities on the site, with the redevelopment enabling the original listed buildings to be restored.
However, the planning consent expired in 2009.
A non-profit North Wales Building Preservation Trust has been set up to take over the site if the compulsory purchase order is successful.
The deadline for the owners to comply with a repairs notice expired this week, but a CPO could take up to 18 months to implement, depending on whether the owners challenge the council's actions.
An independent valuer will be asked to advise the council on what offer to make, but a report to the cabinet warned that there must be "a very clear exit route" so that the council does not end up taking on significant liabilities.
Before granting a CPO the Welsh government must be satisfied there is a reasonable likelihood of the listed building being restored, using funds from the sell-off of housing land.
Solicitor Ayub Bhailok, who acts for Freemont, has said previously that the company would oppose a CPO and he has called for a public inquiry into the council's actions.