Prison will boost north Wales economy, first minister says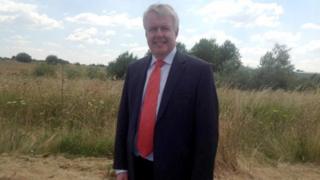 A planned £250m super prison in north Wales will bring an economic boost, First Minster Carwyn Jones has said on a visit to one of its proposed sites.
North Wales is the Ministry of Justice's preferred location for a 2,000-inmate new jail by 2017, ahead of London and north west England.
Mr Jones praised local councils for joining forces on the bid as he toured the former Firestone site in Wrexham.
Work is due to start in 2014 on a project likely to create 1,000 jobs.
'Reducing reoffending'
Mr Jones said that as well as providing jobs, the planned new prison would also allow offenders to be held closer to home.
He said: "I was very pleased that the benefits of having a prison here have been recognised by the UK government.
"It will bring opportunities to north Wales in terms of training and employment, in terms of construction and work within the prison, as well as the wider benefits to the whole region.
"With an estimated 1,000 jobs created and contributing millions of pounds a year to the regional economy, the prison will without doubt be an economic boost.
"It is a credit to all the local authorities in north Wales that they have worked together as one in a bid to secure the prison for the area."
In a statement released as part of the visit, he noted that allowing offenders to be held closer to their homes has "shown to be an important factor in reducing reoffending".
There is currently no prison in north Wales, prompting concern about the impact on inmates and their families.
Another possible location for the prison is at Kingmoor Park, which like the Firestone site is also on Wrexham Industrial Estate.