Wrexham roof protest: Youth custody for Joshua Hughes and James Haden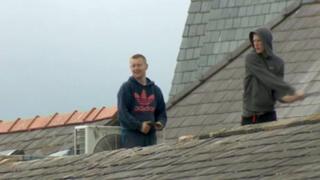 Two men who ripped slates from office roofs in Wrexham and threw them at police have been sentenced to youth custody at Mold Crown Court.
Joshua Hughes, 19, and James Haden, 18, both of Wrexham, admitted causing thousands of pounds worth of damage during the two-day stand-off in April.
Hughes had also admitted affray after a woman police officer was hit in the face by a piece of falling slate.
He was given six-and-and-a-half years. Haden was jailed for six years.
At the sentencing on Wednesday, Judge Niclas Parry said: "It can only be described as a siege situation which went on for 30 hours."
The court had heard Hughes and Haden took to the roofs after police began looking for them in connection with separate charges of robbery and attempted robbery.
As the police closed in them over those charges, the pair took to the roofs, climbing onto the roof of a Chester Street solicitor's office.
Part of a main road was closed bringing a large part of the town centre to a stand-still and police negotiators were called in.
Riot shields
Slates, pieces of wood, masonry and fluorescent light bulbs were hurled from the roof at people below, the court heard, leaving nine people, including one in a wheelchair, trapped in a building.
As the people were led to safety, the pair threw missiles at police who were using riot shields to protect the members of the public.
Insp Sharn Harrison was knocked backwards by a slate which hit her in the face as she moved to look at the defendants' location.
Hughes and Haden refused to come down despite pleas from relatives brought to the scene.
Judge Parry said the "thrill seeking" by the pair caused "huge public inconvenience" and tens of thousands of damage as well as lost business to local firms.
Both defendants admitted damaging slate roofs, windows and the fabric of buildings belonging to Wingetts in Wrexham, as well as affray and burglary at Wingett House.
Hughes also pleaded guilty to affray on 10 April when a solicitors' office was damaged.
Haden pleaded not guilty to burglary of a house in Wrexham when a TV and DVDs worth £800 were allegedly stolen. The charge was dropped but will remain on file.
The pair had earlier admitted causing damage to a roof and a skylight at the offices of solicitors Walker Smith Way in the town.
They also admitted two charges of robbery and two of attempted robbery related to mobile phones being taken by force from people on 23 April.
Two other defendants - Anthony Lewis, 22, of no fixed abode, and Mark Ellis, 19, of Wrexham - admitted the two robbery and two attempted robbery charges.
Lewis received four years and Ellis three years and three months.