HMP Parc finds kittens in prison vehicle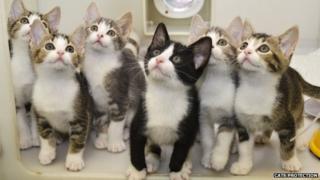 Bridgend's HMP Parc prison staff called in animal charity workers after a cat used one of their vehicles as a home to give birth to kittens.
Cats Protection volunteers are looking after the six newborns at their nearby adoption centre where they have named them Sherlock, Marple, Poirot, Kojak, Jessica and Christie.
Mum, Agatha, evaded capture for 24 hours before being reunited with the brood.
They will be rehoused in the future.
Centre volunteers said the kittens were "well behaved but very demanding" as they initially needed bottle feeding every two hours.
Centre manager Sue Dobbs said: "We were glad to be able to help Parc Prison with their new arrivals, and it's great to see mum and kittens happily reunited.
"This story has a happy ending but sadly this isn't the case for many others.
"We have already had a bumper start to kitten season and would encourage everyone to get their cats neutered to prevent the problem of unwanted kittens."