Rhosnesni 'super school' put in special measures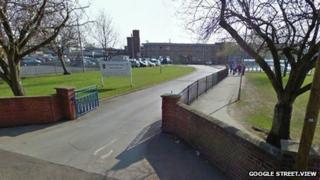 The second of Wrexham's so-called "super schools" has been placed in special measures following a critical report by inspectors.
Ysgol Rhosnesni High School's performance was deemed "unsatisfactory" by Estyn following a visit in March.
However, the governors of Ysgol Rhosnesni said improvements were under way with its best ever GCSE results last year.
Neighbouring Ysgol Clywedog was placed in special measures in January.
Both schools were formed by the £22.5m reorganisation of secondary education in Wrexham in 2005. Three schools - Bryn Offa, St David's and the Groves - merged into the two.
Wrexham council said the Rhosnesni report showed robust action was needed to ensure all pupils had access to the best quality educational provision.
Estyn's inspection at Ysgol Rhosnesni found "important shortcomings in many lessons" with "too many examples of poor behaviour across the school".
Progress monitored
It said pupils did not make enough progress in developing literacy skills and the performance of boys in core subjects was below the average for similar schools.
Concerned about prospects for improvement, Estyn said it would monitor the school's progress each term and the governing body would draw up an action plan.
Ysgol Rhosnesni chair of governors Martin Jones said the school received its best ever GCSE results last August with recognition by the Welsh government's new banding system which saw it move up two places to a band three school.
"Whilst Estyn has focused on several years of historical data and also on our own identified areas for improvement, we remain committed to driving Ysgol Rhosnesni High School forward to ensure we deliver the best opportunities for the children in our community - they deserve it," he said.
Councillor Mike Williams, Wrexham's lead member for children's services and education, said the local authority had "challenged and supported the school to improve with good progress made in key areas in 2012".
He added: "We recognise that there is further work to do and so we will continue to work with the school in the coming months to secure the further improvements that are necessary."
In January, Ysgol Clywedog was placed in special measures following an inspection when it was found that the school had not made enough progress in addressing nearly all of the recommendations from the last report in 2008.