£4.3m Rhyl harbour bridge delayed by cable theft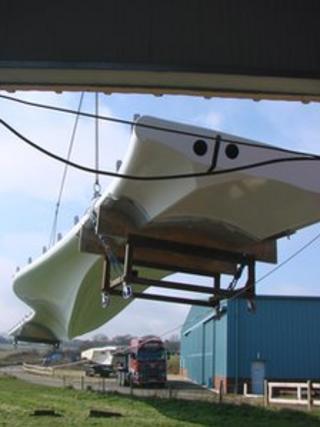 A £4.3m pedestrian and cycle bridge across Rhyl harbour has been delayed after cables were stolen from the site.
Denbighshire council said power and communication cables which had already been laid were stolen recently.
The local authority said installation of the second, south deck has been delayed until 4 July, adding that the bridge is due to open in September.
The bridge will be called Pont y Ddraig, (Dragon's Bridge), named by Rhyl school pupil Leon Jones.
It follows a competition among local schools, and all children who took part will be invited to the opening.
About 200m (656ft) of cable was stolen in April and Denbighshire council said suspects had been arrested.
Despite the four-week delay, the council said work was "progressing well" and the 45m-high (about 148ft) bridge mast has been installed.
The first bridge deck was installed on 10 June.
The harbour will be closed between Thursday, 4 July and Sunday, 14 July for the installation of the second deck, subject to wind conditions.
Once complete, the bridge will provide the final link in 15 miles (24km) of traffic-free cycling across Conwy and Denbighshire.
The existing Blue Bridge is currently the only gap on the cycle route and cyclists have to dismount to cross the water.