Rhyl mosque fire attack: 'Racist' John Parkin jailed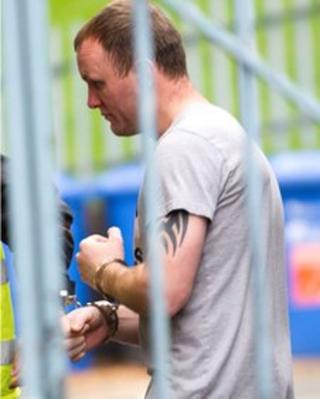 A former serviceman has been jailed for trying to set fire to a Denbighshire mosque after hearing about the murder of soldier Lee Rigby in London.
John Parkin, 27, of Towyn, put tissue into a bottle of beer and attempted to light it by the mosque in Rhyl.
The judge at Mold Crown Court branded Parkin "an inherent racist" and jailed him for 18 months.
He was given an indefinite criminal anti-social behaviour order banning him from any mosque.
Parkin admitted threatening to burn down the mosque and a charge of religiously aggravated disorderly behaviour on 25 May, three days after Drummer Rigby was hacked to death in Woolwich.
Prosecutor David Mainstone said that Parkin went to a Rhyl nightclub and was refused entry after telling staff: "I just need a bottle of strong alcohol to burn down the mosque."
He moved on to a shop and bought a bottle of beer.
CCTV operators had been alerted by the club's door staff, and police officers arrived when he was in the grounds of the mosque.
He was monitored on CCTV as he tried to light the tissue.
Arrested and cautioned, he asked officers: "Do you like Muslims?"
Mr Mainstone said he had made a "serious threat" to burn down the mosque and made inflammatory remarks.
Interviewed, Parkin said he was drunk and could not remember what he had said.
But he said those were his views and he was entitled to have them, adding that they extended from his experiences in the army.